O'Regan's Wholesale Direct Halifax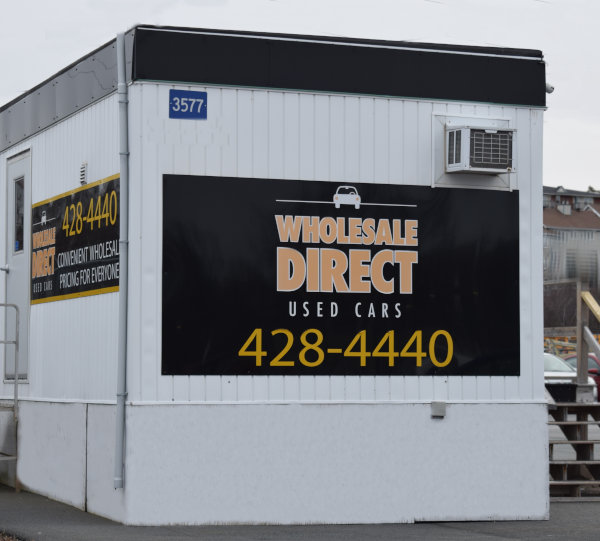 Our History
O'Regan's is a family-owned business serving Nova Scotian's since 1915. Now a third-generation automotive group, Patrick, Kathleen, Tim and Mary-Ellen O'Regan continue their father's and grandfather's commitment to excellent customer service through Used Car Sales, Financing, Services, Auto Body Repair and Automotive Detailing Service at numerous dealership brands, including our Wholesale Direct locations.
Our Mission
O'Regan's is committed to be Canada's recognized leader in satisfying automotive needs by providing exceptional programs and incentives to our customers.
Our Approach
At O'Regan's Wholesale Direct Halifax, we pride ourselves in putting our customers first and experience for yourself why it's the little things we do that make such a big difference. Our experienced and friendly team will happily answer any questions and address any need you may have.
We look forward to meeting you and earning your business!
Wholesale Direct – As Traded Vehicles, Wholesale Prices!
What is a Wholesale Direct vehicle?
O'Regan's takes in thousands of trade-ins each year at our new and used car dealerships. These trade-ins will fall into one of three categories:
Vehicles that will become Green Light Certified
Vehicles that still have life left in them, but due to year, mileage or condition do not meet Green Light certification requirements
Vehicles that are at the end of their lifecycle.
This second category of vehicles are sold As Traded at O'Regan's Wholesale Direct.
Pricing
Wholesale Direct determines the price of their vehicles by constantly monitoring the market through websites like AutoTrader, Kijiji, CarGurus and Facebook Marketplace. We endeavor to be priced among the top three - for best price - year, make, model and mileage of that particular vehicle.
Vehicles must be sold within 30 days so we reprice our vehicles often to ensure the vehicle sells.
Vehicles at Wholesale Direct are one price, we do not negotiate on price however we consistently reprice based on the age of the vehicle and wholesale market conditions. If you are interested in a vehicle and want to receive price change notifications, please sign up for our 'Notify Me of Price Changes' service on oregans.com. Visit oregans.com/price-changes/ for an example. Keep in mind though that if the vehicle has a lot of interest it will likely sell before it is repriced. You can see how much interest there is in the vehicle by looking in the lower left-hand corner of the picture of the vehicle on the vehicle details page on oregans.com. Visit oregans.com/price-changes/ for an example.

What does the vehicle need?
Wholesale Direct vehicles are not inspected so we encourage you to take the vehicle to a mechanic you trust and get an estimate of what the vehicle needs.
If you don't have a mechanic, we can provide you with a list of mechanics in the area. These mechanics are independent of our operation and you can decide if they are the right mechanic for you. O'Regan's also owns an independent service centre, O'Regan's NAPA, so we can provide the name of one of these mechanics who can provide you with an estimate.
Wholesale Direct provides a great opportunity to buy a vehicle on your terms. Vehicles are wholesale priced and you have the opportunity to get a comprehensive independent inspection so you can determine if the vehicle is right for your needs and budget.
The process is fully transparent, the vehicles are final sale, the provincial safety inspection will be removed. They do not come with a warranty or return policy so it's important take advantage of the opportunity to get the vehicle checked out so you can be completely comfortable with your purchase.
What our customers say